Company Overview
Trade Name

Nippon Comsa Co., Ltd.

Establishment

October, 1985

Capital Fund

¥10,000,000

Head Office Location

10 Funamachi, Shinjuku-ku, Tokyo 160-0006

Phone number

03-5269-1561

FAX number

03-5269-1562

Business description

1. Sales of processed foods, beverages, frozen foods, agricultural products, and import/export
2. Wholesale and planning and development of daily food products
3. Logistics Management

Fiscal year-end

at October

President

Naofumi TAMURA
Main Clients

※Titles omitted, random order
Supply desitination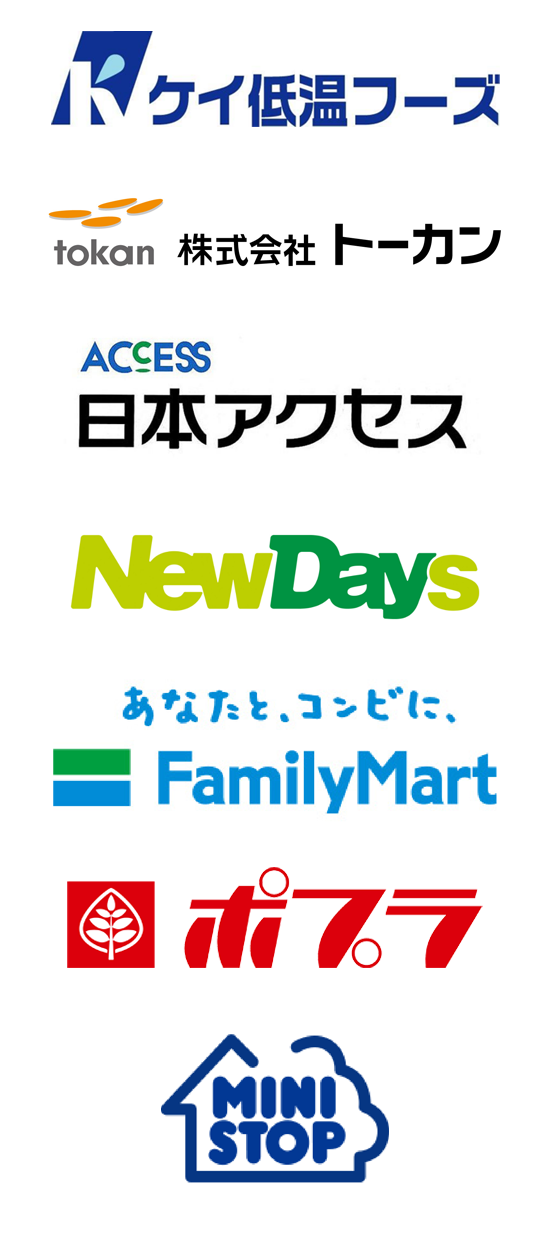 ・MI Food Style Co., Ltd.
・K-Teion Foods Co., Ltd.
・JR East Cross Station Co., Ltd.
・TOKAN Co.,Ltd.
・NIPPON ACCESS, INC.
・Nippon Access Hokkaido Co., Ltd.
・FamilyMart Co., Ltd.
・POPLAR.CO.,LTD.
・Mitsubishi Shokuhin Co., Ltd.
・MINISTOP Co., Ltd.
・Ryohin Keikaku Co., Ltd.
・Lawson, Inc.
Supplier

・Ajinomoto Frozen Foods Co., Ltd.
・ALL HEARTS COMPANY Inc.
・KYOKUYO CO., LTD.
・Goshoku Co., Ltd.
・Shibuya Foods Co., Ltd.
・Shimizuya Shokuhin Co., Ltd.
・Chateraise Co., Ltd.
・Taihei Co., Ltd.
・TSUBUKI CORPORATION.
・Donan Reizo Co., Ltd.
・Tokachi Seika Co., Ltd.
・Domremy Co.Ltd.
・NISSIN YORK CO.,LTD.
・BANDAI CO., LTD.
・Plecia Co., Ltd.
・Mowi Japan Co., Ltd.
・MONTEUR CO., LTD.
・Le Friend Co., Ltd.
・ROPIA CO.,LTD.
Delivering good taste to
as many people as possible
I have loved cakes and chocolates since I was a child.
Thinking back, I probably spent most of my allowance on sweets.

I often followed my mother shopping and sneaked sweets into her basket, and was often scolded after paying the bill.
My professin may have been set from that moment on now that I think about it.

People's values have changed due to various social conditions, and the business world now requires diversity.
However, since "eating" is an essential desire of life, the impression of encountering delicious food will remain engraved in our hearts and minds no mtter how old we get.

For us, the only thing that gives us pleasure is to deliver such good taste to as many people as possible.

To achieve this single goal, we face problems daily, search for solutions, and use our imagination and energy to plan and develop products.
And most of all, we must continue to possess the joy of eating and the desire to be moved by good taste.
We think it is important not to forget the feeling of those childhood days wanting to eat delicious sweets until becoming full.

Nippon Comsa will continue its research, dreaming that the small joys we bring to our customers will not fade away in the years to come.
President
Naofumi Tamura
Access Map
10 Funamachi, Shinjuku-ku, Tokyo 160-0006
Tel.03-5269-1561 Fax.03-5269-1562
Yotsuya-Sanchome Station Route

When you exit Yotsuya-Sanchome Station on the Tokyo Metro Marunouchi Line from Exit No.2, turn left.

Turn left at the intersection with the Yotyuya Fire Station.

Follow the road to the end and turn right.

You will immediately see our facility on your right.

Akebonobashi Station Route

When you exit Akebonobashi Station on the Toei Shinjuku Line, Exit A1, turn left for a little, then turn left.

Turn right at the crossroads with Freshness Burger.

When you see an uphill road on your left, turn left.

Continue uphill and up the stairs.

After reaching the top of the stairs, turn right at the end and follow the road and you will see our company.

This is our company facility